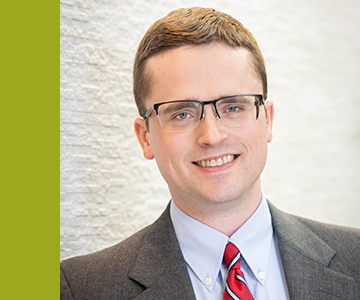 Senior Wealth Advisor
Fred Hubach builds personalized financial plans that are adaptable and evolve as life unfolds, helping clients to feel more prepared for life's uncertainties. He enjoys developing creative solutions to complex problems and excels in making technical concepts easy to understand. As an advisor, Fred helps clients focus on what they can control, so they leave meetings feeling empowered and engaged.
Prior to joining Hemington, Fred spent more than five years at a global tax firm. He provided independent advice to high-net-worth individuals, corporate executives, and family business owners, with a primary emphasis on investment consulting, tax planning, and family wealth planning strategies.
Fred received his bachelor's degree in Economics from Wheaton College and is both a CERTIFIED FINANCIAL PLANNER™ professional and Certified Private Wealth Advisor® (CPWA®). The CPWA® is an advanced certification designed to address the sophisticated needs of clients with a minimum net worth of $5 million. Fred also specializes in advanced tax planning strategies and is an Enrolled Agent (EA), the highest credential awarded by the IRS.
Fred lives in Washington, D.C. with his wife and daughter. He has a passion for American History and enjoys the outdoors. When he is not at work, Fred can often be found exploring the many historical sites in and around the nation's capital.
email: fred.hubach@hemingtonwm.com
Phone: 571.429.7813