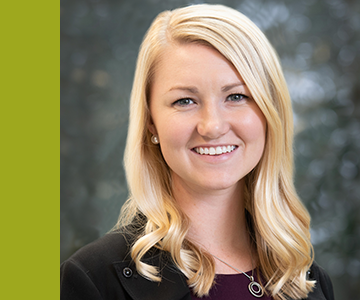 Wealth Advisor
Paige Hanks designs holistic financial plans for Hemington clients. Paige's passion for financial planning stems from a long-lasting vision of helping others achieve their goals as life evolves. She particularly enjoys helping women feel confident in making great financial decisions and working with multi-generational families. Paige's relatable approach and her ability to connect with the whole family enhances relationships and helps promote strong money values across generations.
Paige began her career at Hemington several years ago as an Associate Financial Planner and is now a Wealth Advisor. She is a graduate of Virginia Tech with a B.S. in Finance. She completed the Virginia Tech CFP® Certification Education Track along with a minor in Business Leadership. She is a member of the Northern Virginia Estate Planning Council, Financial Planning Association, and The National Association of Personal Financial Advisors. In addition to her work with clients, Paige leads Hemington's Internship program where young professionals can gain experience and get a glimpse into what our industry is all about.
Paige grew up in the small town of Galax, Virginia, and now lives in Arlington, Virginia. In her free time, she enjoys exploring local restaurants and breweries, traveling, being outdoors, and spending time with her family and friends.
email: paige.hanks@hemingtonwm.com
Phone: 571.423.0072