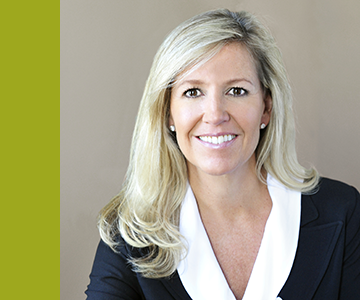 CEO and Founder
Eileen O'Connor is the Founder and CEO of Hemington Wealth Management. She is responsible for the strategic direction of the firm and all aspects of the client experience, in addition to her primary role as a wealth manager for her clients.
With more than 25 years of financial services experience, Eileen is passionate about changing the outcome of her client's lives by helping them make smart decisions about money. Eileen's educational background and professional experience are rare in the industry and uniquely qualify her to advise highly successful executives while her other role as wife and mother of 5 means she understands the importance of holistic planning for the family. Eileen believes everyone needs a personal CFO and is driven to reach as many families as she can by building a great team that is committed to changing lives.
Eileen is a sought after speaker and writer on many wealth management issues, especially on issues surrounding women of wealth. She has co-authored several groundbreaking studies on women and money and is committed to raising the bar for women investors. She strives to demystify investing and empowering clients with knowledge—not with products. Eileen is regularly quoted in the Wall Street Journal, Barron's, Forbes, Private Wealth Magazine and hundreds of other publications. She was selected by Investment News as one of only 20 financial services executive women as a Woman to Watch in 2016. She has been named a top financial professional by the Washington Business Journal (2011-2013), Washingtonian (2009-2018), Northern Virginia Magazine (2009, 2011-2017) and SmartCEO Magazine (2012-2013), in addition to being a featured speaker at industry conferences both in the US and internationally.
Eileen earned an MBA from Harvard University, a B.S. in Finance and Management Information Systems from the University of Virginia, a Certificate in Financial Planning from Georgetown University, and is a CFP® designee.
Eileen is active in the Washington DC Harvard Business School Club, NAPFA (The National Association of Personal Financial Advisors), the Financial Planning Association and the Northern Virginia Estate Planning Council. She also serves on the investment committees of Georgetown Visitation Preparatory High School and the American Association of University Women, as her way of giving back.
Eileen lives with her husband and clan in Great Falls, Virginia and in her spare time enjoys travelling, reading and golf.
Recent Recognition & Publications
email: eileen.oconnor@hemingtonwm.com
Phone: 703.828.2479
Direct Phone: 703.828.2480