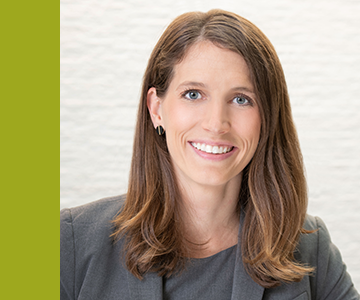 Managing Director
Jen Dawson helps clients get crystal clear about what's most important in life, and then helps them feel confident and connected to the financial plan that supports their vision. Jen asks great questions and creates spaces for critical conversations that are often neglected by busy professionals. She advises clients well beyond just portfolio management, with a focus on financial freedom scenarios, college funding tactics, tax reduction strategies, and proactive planning ahead for worst case scenarios, such as death or disability. With over a decade of experience helping clients have a great relationship with their money, Jen offers a unique blend of financial expertise and a sensitivity to the emotion and complex undercurrents linked with money conversations.
In addition to her primary role as wealth manager for her clients, Jen is responsible for Hemington's expansion in Chicago. Jen's specialty in working with lawyer clients has made Hemington the go-to firm for Chicago's legal community. She regularly provides continuing legal education to law firms and other legal organizations committed to the holistic well-being of lawyers. Jen is on a personal mission to bring more financial peace of mind and joy to lawyers, a group of professionals who are under huge amounts of stress, professionally and personally.
Jen is also a wholehearted champion of women and girls. She is passionate about empowering the women in her life through financial education, strategic networking, and by creating space for new perspectives and discussions about women's issues. She hosts regular breadwinner women events in Chicago and is a frequent speaker and writer about women of wealth and personal finance. Jen is also the immediate past Board President for Girls on the Run Chicago, a non-profit after-school program that inspires 11,000 girls annually in the Chicagoland area to be joyful, healthy and confident using curriculum that teaches life lesson while training for a 5k.
Jen graduated from University of South Carolina's Honors College Summa Cum Laude with a degree in Mathematics and was an Academic All-American and captain of USC's NCAA National Championship Track & Field team. She earned her Certified Financial PlanningTM designation through Northwestern University. She is a member of the Financial Planning Association, the Women's Initiative of The National Association of Personal Financial Advisors, and is a 6-time winner of the 5-Star Wealth Manager award.
Jen lives in Bucktown in Chicago with her husband and sons, Tommy and Jack. On any given weekend, you can find them running on the 606, watching English Premier League Soccer, or planning their next travel adventures.
Recent Recognition & Publications
Featured in the Discover|Modern Money article: "How to Save More Money in the Stay-at-Home Economy by Focusing on What Matters Most" –Read More Here >
Authored article:  "What are you Looking Forward to Right Now?" which was featured in the Women's Bar Association of Illinois newsletter, pg. 38-9 –Read More Here >
Featured in the New York Post's article: "Dream up your definition of success for a rewarding career." – Read More Here
Jen Dawson's article, Building a Niche Practice: Don't be afraid to get even more specific, was the cover story for this month's The National Association of Personal Financial Advisors' monthly publication: NAPFA Advisor, The Art and Science of the Fee-Only Practice. Jen highlights the ways that Hemington's specialization in serving women lawyers benefits clients, helps to eliminate competition, increase referrals, and provides greater clarity in business strategy. Jen was a speaker on this same topic at NAPFA's National Conference in October 2019.
6-Time Winner of the 5-Star Wealth Manager Award – Read More Here
Featured in Above the Law's Podcast: "Are You a Woman Fed Up with BigLaw? You Aren't Alone." – Read More Here
Featured in The Resilient Lawyer's Podcast: "Removing the Taboo with Money and Finding Balance Financially." – Read More Here
Featured in The Dispatch-Argus after crossing the finish line at the Tokyo marathon on March 3, 2019, completing all six World Major Marathons, and raising over $50,000 for the nonprofit organization, Girls on the Run-Chicago. Read More Here
email: jen.dawson@hemingtonwm.com
Phone: 312.757.5339